Brass Air Brake Compression - Nylon Male Connector 1/2x1/4 (Package 5)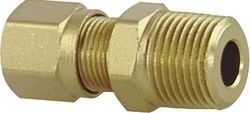 Brass Air Brake Compression - Nylon Male Connector 1/2x1/4 (Package 5)
Meets D.O.T. FMVSS 571.106
• Temperature range: –40°F to +200°F (–40°C to +93°C)
• Exceeds pressure requirements of automotive air brake systems
• Typical applications include air brake systems, air control and gauge lines
• Used with nylon tubing (SAE J844, Type 3)
Assembly Instructions
1. Cut tubing squarely.
2. Insert tubing into fitting until bottomed on seat.
3. Tighten nut with wrench until one thread remains visible on the fitting body; or, the nut should be screwed down finger-tight, then wrench-tightened as indicated in the table (this will allow for a number of remakes).