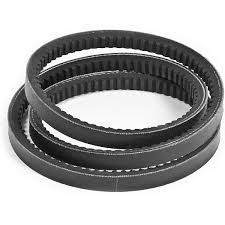 V-Belt, Cogged, 5VX450
Application:

For all heavy duty industrial applications

Outer Length:

45"

Section:

5VX

Series:

5VX450

Thickness:

35/64"

Type:

Cogged V-Belt

Width:

5/8"

Applications:

Suitable for all industrial applications, especially on drives with small or sub-minimal sheave diameters.

Notes:

High performance belt construction has a superior combination of flex and load carrying capacity, as well as less stretch resulting in reduced maintenance.


Belt edge is machined for reduced vibration and even sheave groove contact resulting in less slip and wear.
Specially bonded cords are strongly bonded to the body of the belt resulting in equal load distribution and the absorption of bending stress without cord deterioration.
Meets RMA oil and heat resistant standards.
Meets RMA static conductivity requirements.