MSA ALTAIR SINGLE-GAS H2S DETECTOR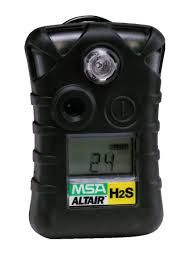 MSA ALTAIR SINGLE-GAS H2S DETECTOR
Get years of accurate H2S gas detection with the ALTAIR Hydrogen Sulfide Gas Monitor from MSA. Providing over two years of continuous gas monitoring, the MSA ALTAIR H2S Monitor provides safety and compliance for your work sites. The unit displays the months of service life remaining for the unit. This monitor goes into alarm when it detects H2S gas but does not show the level of gas detected.

Key Features:
Sensor range of 0-100 ppm
Resolution of 1ppm
Alarm set point: Low-10 ppm and High-15 ppm
Accurate and durable
Maintenance-free gas detection
IP 67 water and dust proof
Weighs only 4 oz. (without box)
Two years continuous monitoring
Rubberized housing protects from knocks and falls
Comes calibrated with certificate
Triple alarm: sonic, visual and vibration
Strong alligator clip
Built-In testing adapter
Large LCD screen
Backlit screen
One-button operation
Data logging
Once monitor is turned on, it will stay on for the duration of the monitor's battery life
Total Weight:
0.45 lbs.