Hempworx Revive Collagen Retinol with Pure CBD Oil (0.5oz)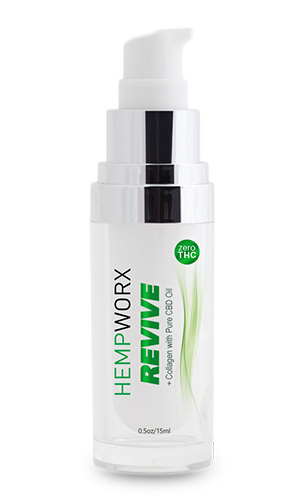 Hempworx Revive Collagen Retinol with Pure CBD Oil (0.5oz)
Revive will help reverse the visible signs of aging, prevent free radical damage, help moisturize the skin, and improve overall texture & complexion. Revive can be used AM and PM.
*** only available for local delivery (Lake Charles, La & 15 miles radius)
**These statements have not been evaluated by the FDA. These products are not intended to diagnose, treat, cure or prevent any disease. Empire Service, Inc. assumes no responsiblity for improper use of and self diagnosis and/or treatment using these products. You must be at least 18 years or older to purchse CBD products. Before taking our products, it's wise to check with your medical provider. It is especially important for people who are: pregnant, chronically ill, elderly, under 18, or taking prescription or over the counter medication.None of the information on our website is intended to be an enticement for purchase and may not be construed as medical advice or instruction. The use of our products for any reason other than to increase general heath & wellness is neither implied nor advocated by Empire Service, Inc.