Fiberlock ShockWave Disinfectant & Cleaner (1 GL)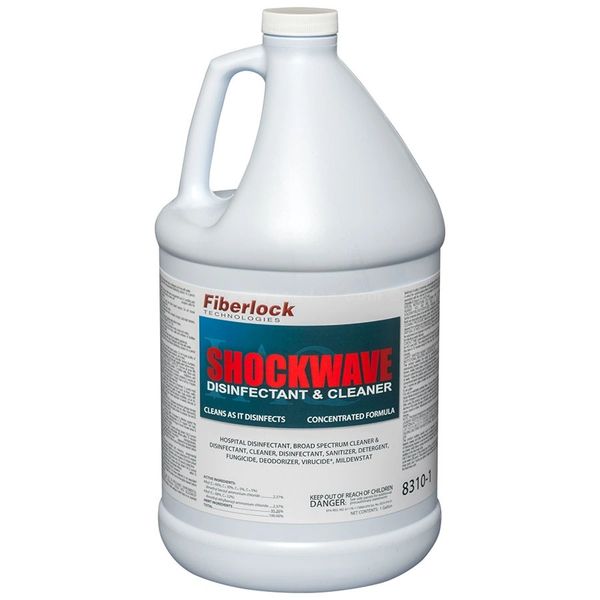 Fiberlock ShockWave Disinfectant & Cleaner (1 GL)
Fiberlock ShockWave is an EPA-registered disinfectant, sanitizer, and cleaner designed specifically for mold remediation contractors. ShockWave is designed to meet all your disinfecting, sanitizing, cleaning, and deodorizing needs.
Strong enough to be used as a hospital grade disinfectant and specifically formulated to be used on both porous and non-porous materials.
Contains over 140 organism kill claims, including Aspergillus niger, Penecillium spinulosum, E. coli, Salmonella, HIV, Hepatitis-B, Herpes, Poliovirus, and many other pathogenic and environmental microbial organisms..
This concentrated formula will disinfect hard, nonporous surfaces and also sanitizes porous and semi-porous surfaces. ShockWave is especially useful as an all-in-one product for treating wood framing, carpets, and other porous and nonporous surfaces as part of a complete mold remediation project.
ShockWave is designed to be diluted two to four ounces per gallon of water, yielding up to 64 gallons of usable product per gallon of concentrate, making it an economical solution for your cleaning, disinfecting, and sanitizing needs.
Features:

Effective in 98% soil load
Over 140 organism kill claims
Effective in 781 ppm hard water
Approved for use against H5N1 Avian Flu
Sanitizes porous and disinfects nonporous materials
Registered for sewage/black water remediation